Plant "Ural" started the production and sales of road cars of the family "Next 6×4". These trucks are designed for construction, road, agricultural and other industries. The range includes dump trucks with carrying capacity of 15.6 tons for transportation of loose and bulk cargoes, tractors with a full train weight to 62 tons (the weight of the trailer on roads 1-4 categories – up to 36 tons).
Will also be available and 6×4 chassis for the release of more than 200 variants of special equipment, including cranes, delivery vans, garbage trucks, tank trucks, fuel trucks, combined road machines, etc.
The truck with the index 73945-5121-01 received 10 CC of the Russian body and inline 6-cylinder turbodiesel YAMZ-53676-10 capacity of 6.6 liters and output of 328 HP and 1368 Nm. Diesel meets Euro-5 and combined with the 9-speed transmission company ZF.
Under the hood of the truck tractor with the index 7470-5511-01 – more powerful row "six" YAMZ-653 volume of 11.1 liters and output of 420 HP and 1985 Nm. This engine is a licensed version of the Renault dCi 11 diesel engines produced in Yaroslavl. The engine is also configured to economy Euro 5 and equipped with manual transmission ZF, but 16-speed.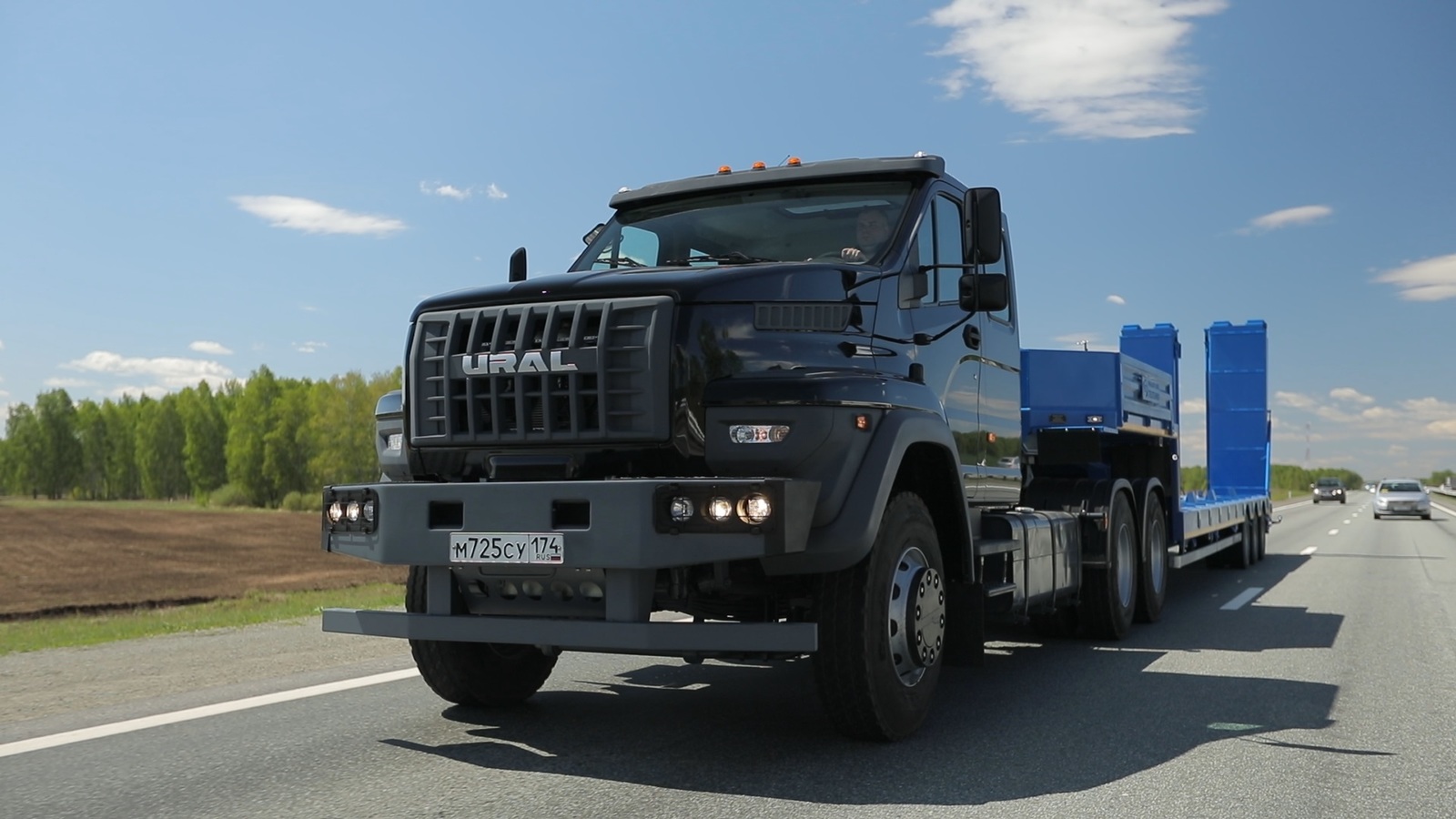 Tractor "Ural Next 6×4" with front underrun beam and trailer for transportation of road construction machinery.
It is noteworthy that for the first time on the cars "Ural" was introduced with the gearshift lever on the dashboard under the "joystick" is set troscopy the shift linkage. The standard equipment of the truck includes cruise control, Central locking, electric Windows, heated windscreen, heated door mirrors, multifunction steering wheel, Board computer, audio system and cabin filter. The steering column is adjustable in height. Cab tractor – sleeper. The cabin itself is galvanized in part, and the tail is made of impact-resistant polymer.
Drive axles are fitted with cross-axle and inter-axle locks the angle of the front wheels is increased to 50 degrees. Machines are equipped with a full metal front bumper and linzovannaya lighting. The plant says a truck warranty 36 months or 150,000 km of mileage, the service interval is 00 to 30 km.