Front loader Shantui SL60W
Front loader Shantui SL60W equipped with a wheel speed. As a prototype for its production we used the model SL50W, which is less productive, powerful and effective. The new machine has a large size, tubeless tires and high traffic. It is characterized by a weight of 20 tons, bucket capacity of 3.5 m3 and a payload of 6 t Due to such characteristics, it is used in the mining industry, industrial, housing and road facilities, warehouses.
The features and benefits
The main advantages of Shantui SL60W include efficiency, safety, reliability and low cost. Tubeless tires allow you to increase the coupling with a base that makes the machine more stable and passable. Other features of the equipment include:
higher performance on the background 50W;
the use of high quality manganese steel for the production of basic parts;
zigzag lifting mechanism high tensile strength;
small turning radius thanks to articulated frame;
ergonomic arrangement of control elements;
dry disc brakes with pneudraulic actuator on all four wheels.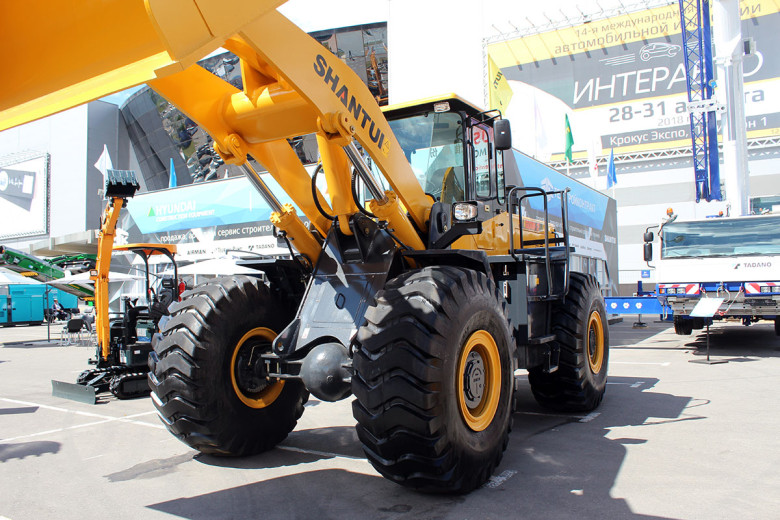 Loader Shantui bulldozer SL60W used for loading and unloading of materials, moving them small distances, the production of excavation works (creation of embankments and dumps), cleaning debris and clearing of territories.
Specifications and dimensions
The main technical characteristics of Shantui SL60W are:
| | SL60W | SL60W-2 |
| --- | --- | --- |
| engine | Shangchai SC11CB240.1G2B1 | Weichai WD10G240E21 |
| power | 175 kW | 175 kW |
| cycle (discharge/lower) | 18,61 (5,97/12,64) | Of 16.83 (5,5/of 11.33) |
| vylivnoi force | 185 kN | 185 kN |
| traction | 167 kN | 167 kN |
| the force of the rollover | 12 t | 12 t |
| torque | 920 Nm | 912 Nm |
| capacity | 6 t | 6 t |
| the capacity of the bucket | 3.5 m3 | 3.5 m3 |
| weight | 19. MT | 21 t |
| min. fuel consumption | 215 g/kW | 230 g/kWh |
| min. turning radius Rel. bucket | 6 520 mm | 6 808 mm |
| min. turning radius Rel. wheel | 7 290 mm | 7 618 mm |
| dimensions | 8351x3082x3480 mm | 8692x3082x3548 mm |
The machine dimensions are of 8.35 m to 3.08 m x 3,48 m. track Width equal to 2.25 m and the length of the wheelbase is 3.2 m.
Engine
Loader installed motors production Shangchai and Weichai (China) in the model 60W and 60W-2, respectively. They consume diesel fuel, but have different volume. The plant capacity is 175 horsepower and shaft speed is 2,200 revolutions per minute.
To install Weichai requires longer wheel base, the length of which is of 3.4 m instead of the standard 3.2 m. This leads to the increase of the length of the machine from 8.35 m to 8.69 m.
Minimum fuel consumption Shantui SL60W is 215 g/kW per hour.
Device
The rotation is carried out through the integrated work of the hydraulics of the hinge. This reduces the load on the front axle and allows you to operate with heavier loads.
Suspension
The loader is equipped with hydromechanical, four-speed transmission, which includes two reverse gear switchable under load. Front axle Shantui SL60W-2 rigid, rear – suspension frame. They are not equipped with suspension, so the rear axle can be deflected relative to the front at a 35 degree.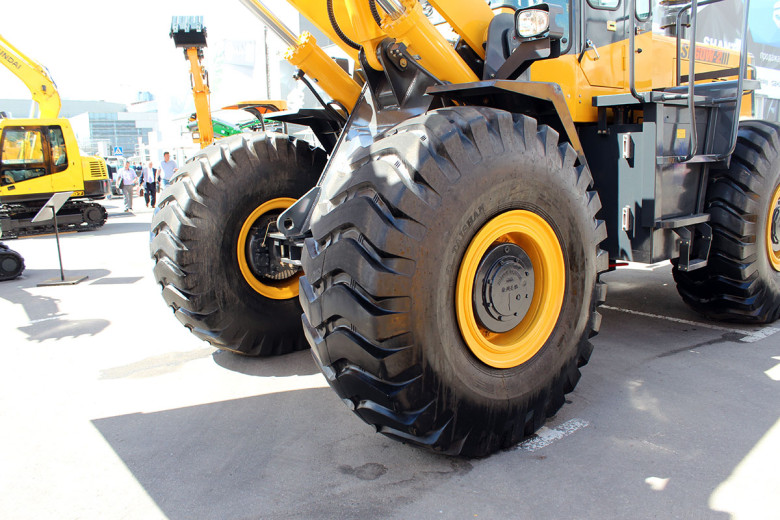 Improved transmission and hydraulics allow the technique to move with speed to 38 km/h forward and up to 24 km/h backwards. Small turning radius due to the articulated. The maximum permissible slope is 30 degrees.
Protection of the tires due to the use of the same tread for all wheels. Pneumatic brakes ensure safety and stability, increase productivity.
The operator's cabin
In addition to high technical specifications Shantui SL60W-2 has an ergonomic cabin. It is tight, has great viewing angles and a comfortable seat with elements of vibration absorption. For convenience, throughout the shift provides intuitive instrument panel and air conditioning. The main controls are joysticks.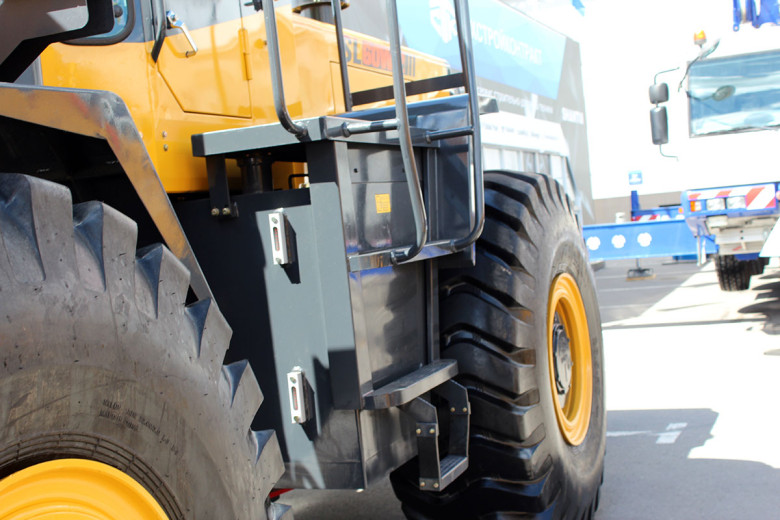 Ease of operation and maintenance
Reliability and ease of maintenance ensure a long trouble-free operation with little maintenance costs. Modification Shantui bulldozer SL60W-2 is equipped with safety systems, including explosion-proof engine compartment.
The simplicity of operator is achieved by automatic leveling of the bucket. The working parts are protected from contamination by dust caps which enhances their durability. The hydraulic system is simple and unpretentious in service.
Attachments
Strelkovoe equipment has a standard length, it is produced only in one version.
In the basic bucket Assembly is installed as the main operating authority. It is attached using two "hands" that enables efficient loading, unloading and moving material. A forklift capable of moving loads in trucks, or pits, as well as to remove materials from them.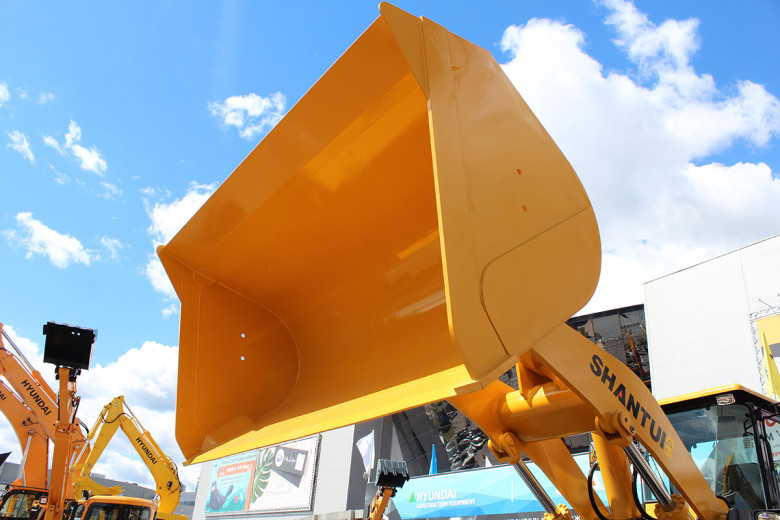 Additionally Shantui bulldozer SL60W you can set:
elements for loading the battery;
equipment for underground works;
bucket for loose materials;
hopper with side blade;
forks for different works;
equipment to increase the height of discharge;
bucket for mining;
grips.
Modification
The machine has only one modification – 60W-2, which is characterized by an increased wheelbase and different engine size.
The cost of new and used
Machines manufacturer have a relatively low cost with high build quality and units. This allows them to compete with European appliances.
Price Shantui SL60W without a run is 3.5 million rubles. in the standard Assembly. Additional equipment not included in the delivery package and must be purchased separately.